PCM PARTNER PROGRAM
Supporting Farmer Efforts

Towards Conservation Best Practices

PCM has the support of more than 30 organizations which have a vested interest in improving the sustainability of commercial agriculture. These organizations include private, public, non-profit, charitable, and government organizations and range from those that serve and supply farmers to those that create and enforce local and national policies.

Firmly rooted in our origins as a farmer service program, we have built technology and analysis tools that support farmers' desire to implement lasting precision conservation methods. By partnering with PCM, you can help farmers make the switch to regeneragive agriculture and access the data showing the measureable impact these practices have throughout the supply chain.

If you are interested in discussing partnership opportunities, please contact Clay Bess at cbess@precisionconservation.org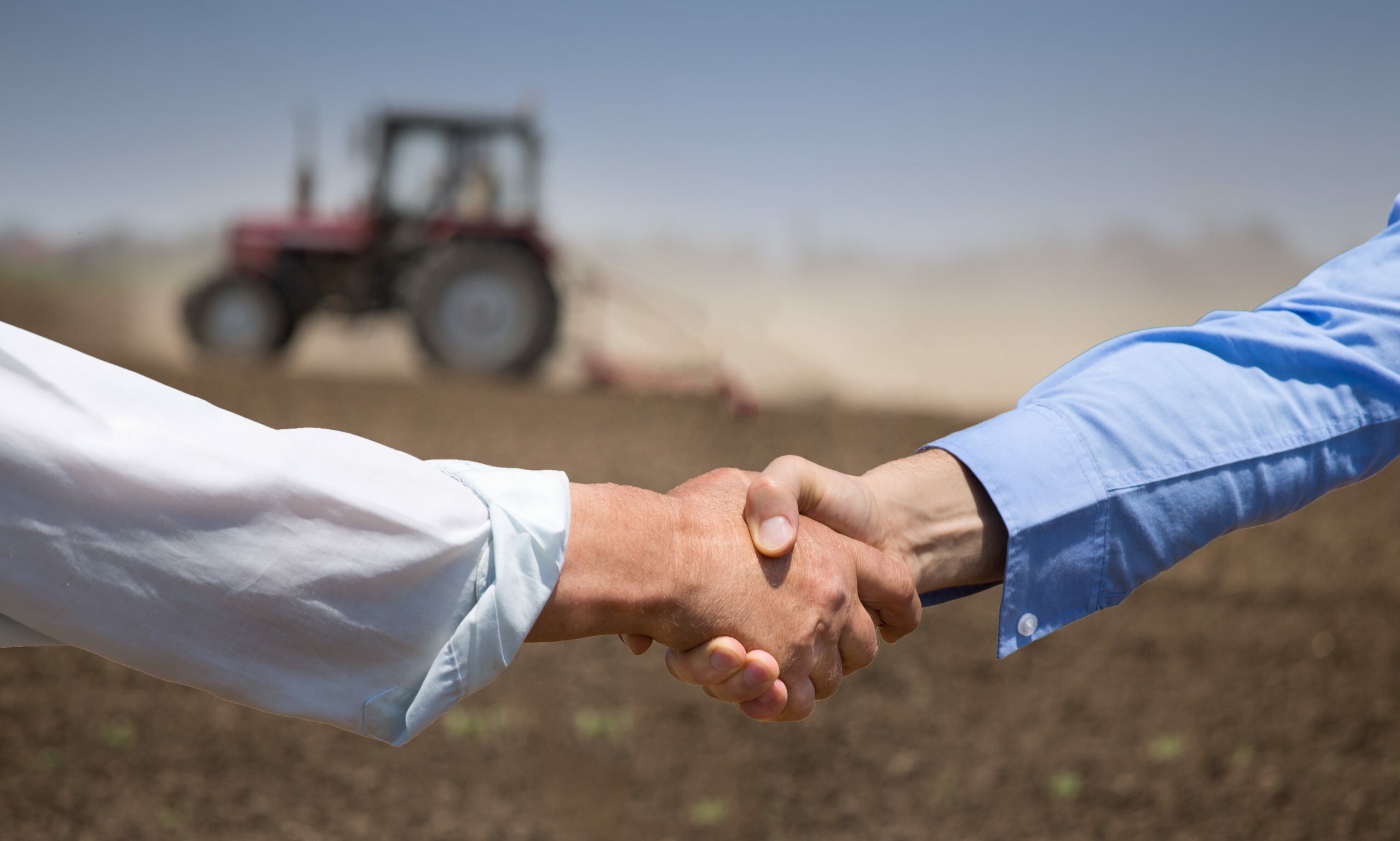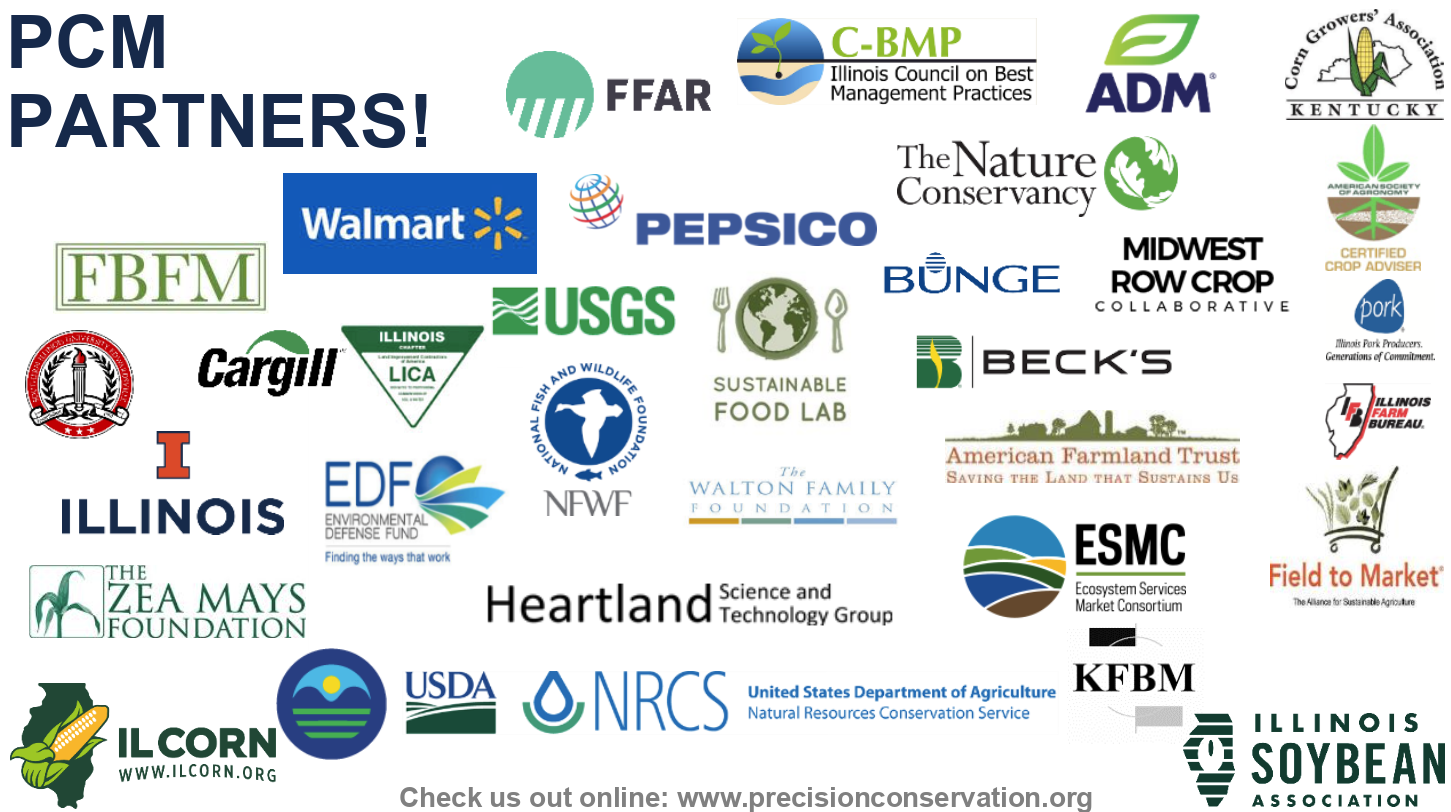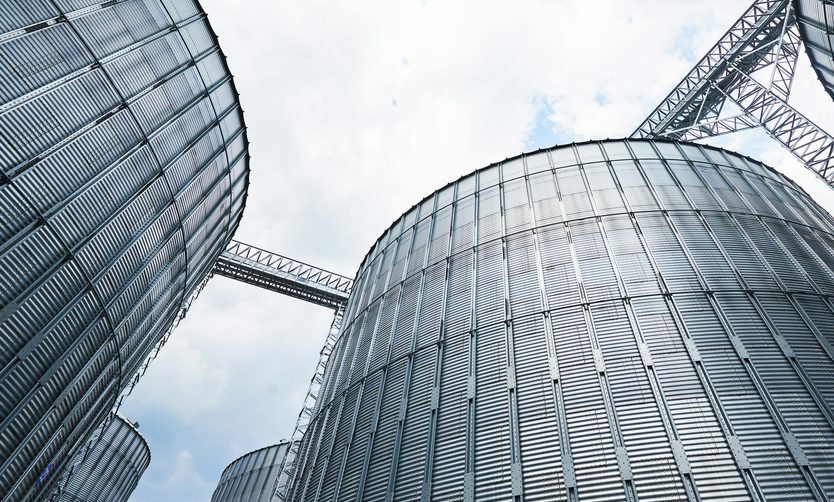 PCM PARTNERSHIP PROGRAM OBJECTIVES
BROADEN OUR IMPACT
Leverage & extend the PCM toolsets and analysis to better support precision conservation farming at the farm level and throughout the entire supply chain
LEVERAGE THE SUPPLY CHAIN TO FURTHER SUPPORT FARMERS
Extend the objectives of PCM and PCM farmers to include supply chain members:

1) Significantly reduce the environmental impact of commercial agriculture on waterways and soils

2) Reduce farmers' risk while maintaining farm business economic viability

3) Demonstrate that environmental goals can be achieved without regulation
SCALE CONSERVATION PRACTICE ADOPTION
Help farmers document, track and more accurately predict outcomes from their precision conservation practices
Who Should Parter With PCM?
SUPPLY CHAIN BUSINESSES
Seeking Measurable Improvements In Food & Fuel Supply and Willing to Support the Conservation Practices of Farmers
GOVERNMENT CONSERVATION PROGRAMS
Seeking To Expand Government Program Participation and Technical Support Services
TECHNOLOGY DEVELOPMENT PARTNERS
Contributing Digital Resources to Expand Capacity for Analysis & Assessment to Support Improved Decision Making
FOOD STORAGE, TRANSPORTATION & DISTRIBUTION BUSINESSES
Seeking Measurable Improvements In Conservation Practices of Their Farmers, & Broader Access To Market Suppliers
CONSUMER FOOD DISTRIBUTORS
Meeting Consumer Demand For Improved Accountability Among Merchandisers and Consumer Packaged Goods Companies
PROFESSIONAL ASSOCIATIONS & CONSULTANTS
Seeking To Support Precision Conservation Farming Among Their Members and/or Clients
SUPPLY CHAIN PARTNERSHIPS
Customized Sponsored Farmer Programs
PCM Supply Chain Partners see the competitive advantage in working directly with farmers to facilitate a shift in farm practices. Our Partners have different conservation commitments and want to demonstrate different sustainability gains. PCM can customize technology and reports to meet your specific goals.

PCM provides: Aggregated Farmer Data; Access to Farmers; Quantifiable Improvements Over Time; Demonstrable Economic Impacts; Sustainability Claims; and eventually, Sustainability Scores.
Build A Customized Farmer/Grower Program
Supply Chain Partners can support precision conservation by working with PCM to create a customized Farmer Program. PCM can provide customized tools and data analysis for your particular industry or association.
Broaden Market Access
PCM Supply Chain Partners receive assistance with recruitment. We can help market your program to new farmers while also making your program available to the existing pool of PCM Farmers – a diverse pool of farmers ranging from first time adopters to advanced practitioners.
Access To Customized Data Analysis
Your Farmer Program can include the data of farmers participating in your customized program, cross-referenced with broader, anonymized PCM data and/or other data sources.
Build Customized Interface/Reports
PCM can customize your Farmer Program interface and reports to track and document your Program in the ways that are most useful to you.
Precision Conservation = Competitive Advantage
A La Carte Partner Services
What We Do For Supply Chain Partners
Custom Portal Development
Data collection and reporting will be customized within the Farmer Portal to support the food producers in *your* business's supply chain, and to quantify the improvement in conservation practices by farmers in your individual supply chain.
Recruitment
PCM can recruit farmers into your customized Partner Program – beginning with the farmers in your existing supply chain, and marketing your program more broadly to exisiting PCM farmers and others.
Data Collection Assistance
We all hate entering data. PCM Specialists enter participating farmer data into your custom Farmer Portal – ensuring data quality and efficient use of farmer time.
Reporting
We can create a customized Farmer Portal interface, data collection tools, and/or reports to support your specific industry needs – demonstrating greater adoption of conservation practies using agregated, anonymized farmer data.
Conservation Recommendations
We can provide your farmer program members with relevant data and recommendations based on extensive and/or custom data analysis.
Track Conservation Improvements
We help track your farmer/suppliers' improvements over multiple years – encouraging ongoing improvements and scaling-up of farmer conservation efforts.
Generate Annual Reports From Consolidated Data
Analyzing Partner Program data will include interfacing with Field to Market, the Cool Farm Tool, NRCS, and others – and will include both sustainability and economic analyses.
Data Security
Individual farmer data is secure and never shared. PCM Partners are provided aggregated/anonymized reports. The PCM farmer data itself is managed/protected by a trusted technology partner, Heartland Science & Technology Group – which specializes in managing data in ways that meet federally mandated cyber security data protections standards.
Marketing
PCM Farmers are invited to participate in Partner Programs – connecting supply chain businesses with producers already knowledgable and actively tracking their conservation efforts.
Multi-Organization Collaboration Opportunties
PCM and it's existing Partners can provide leadership in identifying and developing new opportunities for funded collaborations.
Training
PCM staff can provide training to vetted groups interested in replicating the PCM Program in other regions or for other crops.
Education
Using PCM analysis, we can provide custom lectures and supporting materials to help both farmers and supply chain members understand the processes and challenges of precision conservation – from the perspectives of farmers, supply chain members and legislators.
Certifications
As industry standards for precision conservation emerge, PCM can leverage its data, expertise, education, training and Partnerships to create new professional certifications.
Standards
Using anonymized data, we can better understand how to create new industry standards and best practices for precision conservation – and share them widely.
Support New Markets
As new markets emerge for ecosystem services, PCM is ideally positioned to support critical connections between credit traders and the farmers who originate conservation credits.
How Supply Chain Partnerships Benefit PCM Farmers
Existing PCM Farmers get first access to new opportunities made available via our Supply Chain Partners. Partner programs can reduce farmer overhead costs associated with practice adoption and provide technical assistance needed to ensure successful implementation.
Through PCM Specialists, PCM farmers receive one-stop access/registration for new financial and/or technical assistance made available through Supply Chain Partners. No missed opportunities for farmers.
Robust, real-world datasets and advanced data analysis result in new insights for profitable and efficient adoption of practices , improving PCM's ability to make data-informed management suggestions and creating new opportunities for economic & environmental benefits.
Technology Partnership Benefits
Our Technology Partners provide enhanced and expanded functionality for the Farmer Portal – providing a mutual benefit through access to the existing Farmer Portal userbase.
Customization of the Farmer Portal
PCM can integrate Partner technology/functionality/toolsets into the existing Farmer Portal as needed.
Customized Data/Reports
Using anonymized data, we can provide customized reports as needed.
Enhance Partner Technology
We have the ability to leverage access to PCM technology – enhancing both Partner's technology as well as our own.
Increased/Easy Access to PCM Farmers
Technology Partners have an opportunity to engage PCM Portal Users from within the Farmer Portal – at the ideal time when Farmers are analyzing, planning and documenting their conservation efforts.
How Technology Partnerships Benefit PCM Farmers
Farmers need one, centralized data repository – technology partnerships bring us closer to being that single source.
Enhanced/expanded technology provides more ways in which farmers can analyze their own farm business practices.
Technology Partners can bring new users and types of data into the Farmer Portal – creating a more robust tool with richer data analysis to PCM Farmers.
ACCELLERATING YOUR EXISTING PROGRAMS


Farmers rely on their PCM Specialist to connect them with the latest and greatest in conservation farming – and that includes programs that support their on-farm efforts. Expand your program participation and gain insights about the measurable effect of regenerative farming practices.

PCM provides: Aggregated Farmer Data; Access to Farmers; Quantifiable Improvements Over Time; Demonstrable Economic Impacts; Sustainability Claims
EXPAND PROGRAM PARTICIPATION

PCM Specialists stay up-to-date on programs available to farmers in their region. By partnering with PCM, your program will be recommended to farmers best-suited for your offerings and goals.
ACCESS TO DATA

ANALYSIS
Access the data of farmers participating in your customized program, cross-referenced with broader, anonymized PCM data and/or other data sources.
CUSTOMIZED REPORTS
PCM can customize your Farmer Program interface and reports to track and document your Program in the ways that are most useful to you.
Program Partnership Benefit to PCM Farmers
Many farmers are interested in adopting new farming practices to reduce their environmental impact, but often the financial risks are too high. One of the ways PCM helps alleviate that risk is by connecting farmers with the programs available to them based on their specific farm credentials. Access to your program could make it possible for PCM farmers to say "yes" to trying something new.