Brought to you through collaboration with the
Champaign County Soil & Water Conservation District
S.T.A.R.2019

Saving Tomorrow's Agricultural Resources
A FREE SERVICE TO ILLINOIS FARMERS
S.T.A.R. is a FREE tool to assist farm operators and land owners in evaluating their nutrient and soil loss management practices on individual fields. The purpose of S.T.A.R. is to motivate those making cropping decisions to use the "best management practices" that will ultimately meet the goals of the Illinois Nutrient Loss Reduction Strategy.
GET STARTED NOW
Potential Benefits & Value To S.T.A.R. Program Participants
Increased net farm income
Reduce crop insurance premiums
Land owners can evaluate tenants' contributions to conservation
Assist in securing local conservation cost share (when available)
Assist producers in obtaining documentation to support potential water quality issues
Assist producers to obtain potential market premiums for conservation cropping practices
Signage to support community awareness and acknowledgement of conservation efforts
For more detailed info, download the S.T.A.R. PDF Brochure or contact your local SWCD to see if they offer the S.T.A.R. Program.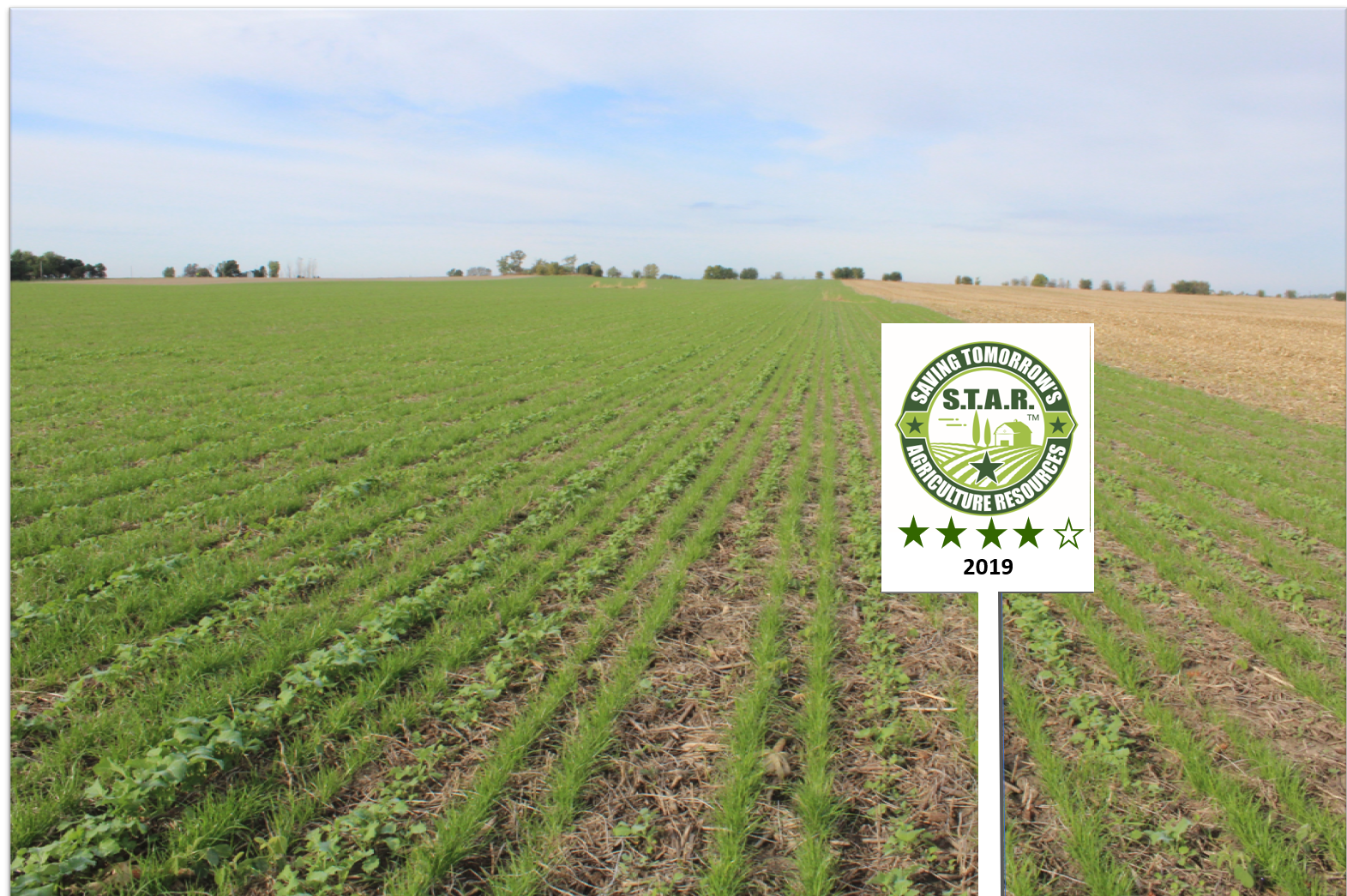 COMMUNITY PRIDE IN SUSTAINABILITY
Raise awareness with every S.T.A.R. field sign. Your conservation practices become an opportunity to share and inspire your neighbors.

Why Register via PCM?
It's Fast. Free. And Trusted.
YES! LET'S DO THIS!
The S.T.A.R. collaboration with PCM allows farmers to easily enter S.T.A.R. data on-line and save it in the PCM system. Together, we hope to grow and support our respective programs and expand to meet future needs of farmers and farm businesses in our communities.
STAR APPLICATION VIA PCM
No Thanks.
I PREFER A PAPER FORM
We understand. But before you default to the traditional method, we hope you take a closer look at PCM.

We are farmer-led, and a trusted custodian of your data – which we guarantee will remain yours. Always. More on PCM's data & security policies here.
STAR FIELD FORM 2019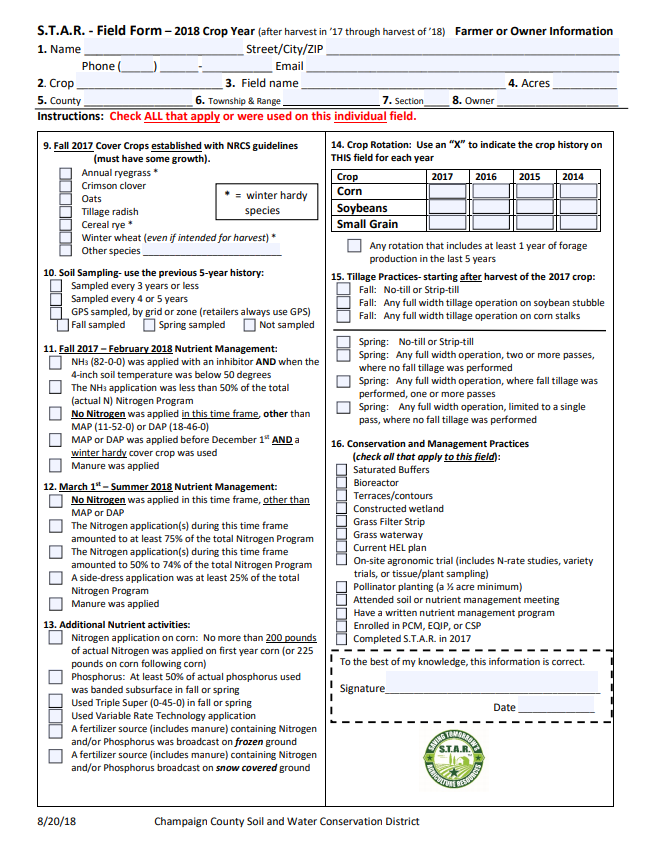 S.T.A.R. Field Forms
3 Minutes To Complete One Field Form (on average) – 16 Questions
Submit the digital form through the PCM Farmer Portal (FREE) and easily access your information/data later on
Complete one form for each field you want to evaluate – get a S.T.A.R. rating and physical sign for each field
Your local S.T.A.R. facilitator will contact you directly. If your county does not have a S.T.A.R. program yet, that's okay! Staff from the Champaign County SWCD will contact you directly.
HOW TO EARN YOUR CONSERVATION STARS
The S.T.A.R. evaluation system assigns points for each cropping, tillage, nutrient application and soil conservation activity used on individual fields. Those point values were determined by a "science" committee based on their analysis of recommended practices contribution to the goals. The total points are used in a scale to determine a rating of 1 to 5 Stars for each individual field.
Below are some practices used in the rating system and the points that may be assigned. Note: Some practices reduce total points.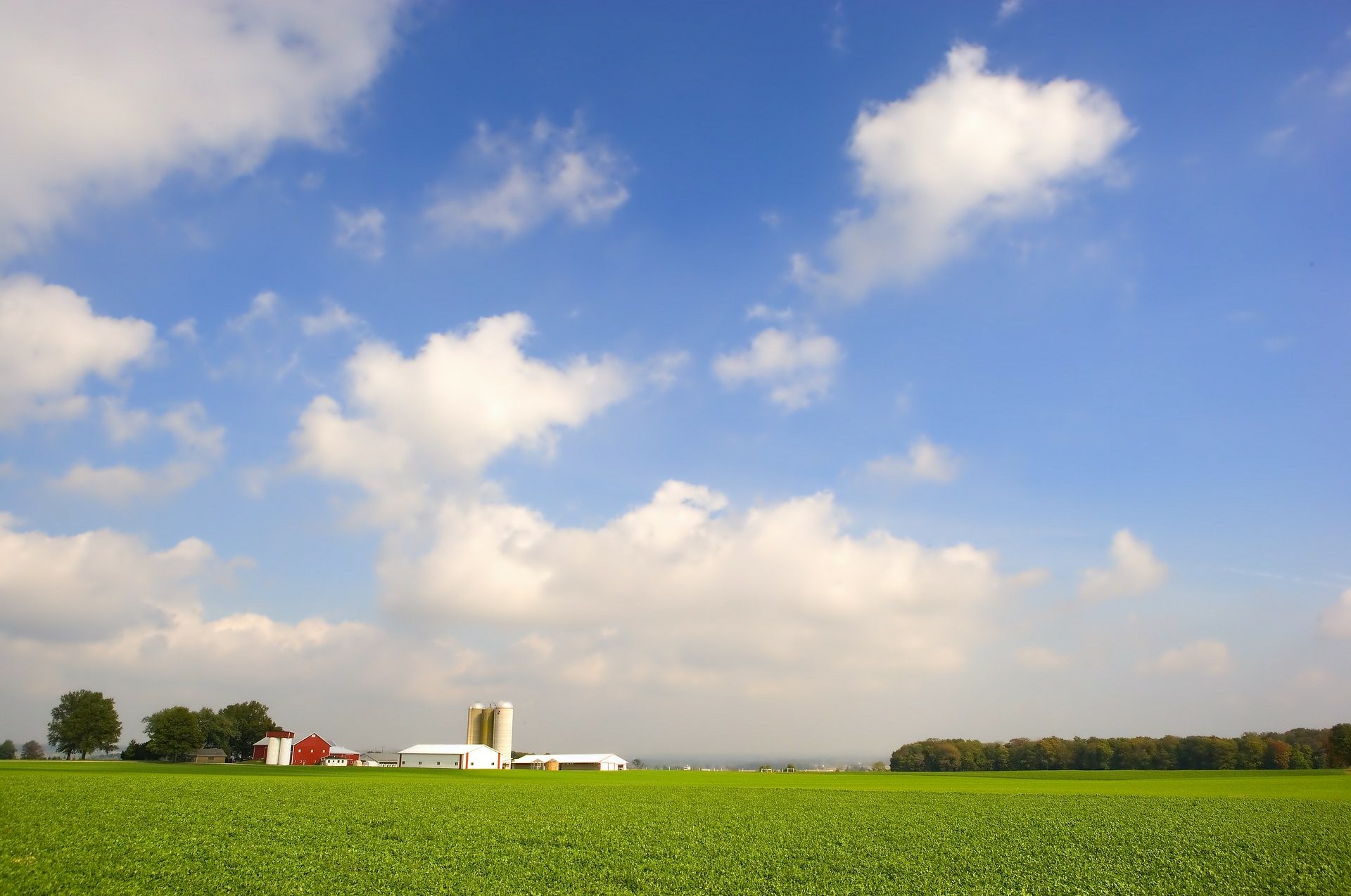 5-6 Points
No Nitrogen applied in fall or spring, use of a winter hardy cover crop, no tillage in fall or spring
4 Points
Soil sampling every 3 years or less, a crop rotation that includes a small grain
3 Points
At least 75% of Nitrogen applied in Spring/Summer, total Nitrogen minimized, at least 50% of Phosphorus applied was banded subsurface
2 Points
At least 25% of Nitrogen side-dressed, winter kill cover crop, use of Triple Super, VRT, filter strips, waterways, etc.
1 Point
Continuous soybeans, written nutrient plan, limited tillage
Endorsed by the
Illinois Department of Agriculture
"We believe the [S.T.A.R.] program provides farmers and farmland owners with an evaluation of their production practices to help them reduce nutrient and soil losses and is consistent with the goals and objectives of the States's Nutrient Loss Reduction Strategy. We believe this program can provide a solid foundation for the future of Illinois agriculture."

"Through it's objectives and goals, S.T.A.R. inspires farmers and farmland owners to enhance their farming practices that produce food, fiber, and fuel with minimal impact on the environment. S.T.A.R. is not only an easy to use and economical tool for participants to evaluate their practices, it is a model that can be replicated in many geographic locations both inside an outside of Illinois.'"

"This letter serves as a formal endorsement of the S.T.A.R. Program by the Illinois Department of Agriculture." – Raymond Poe, Director, Illinois Department of Agriculture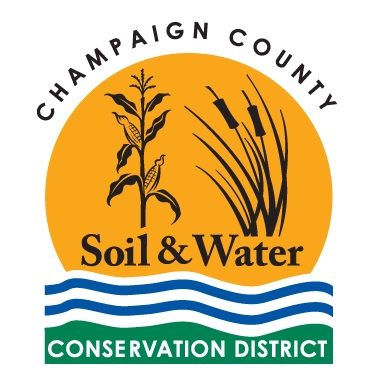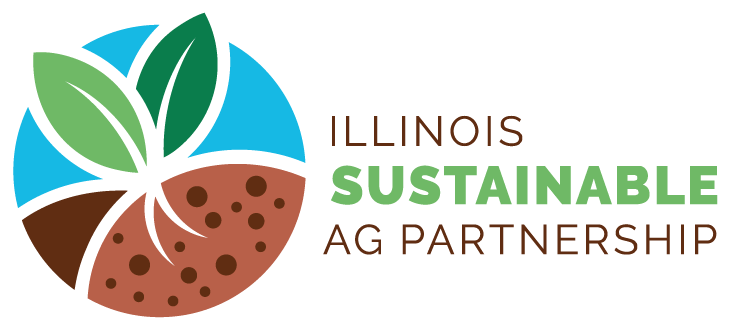 Help Bring S.T.A.R. To Your County
S.T.A.R. is supported by the Champaign County Soil & Water Conservation District. The program is rolling out throughout Illinois. But some counties are not yet on-board. Contact your local county Soil & Water Conservation District to find out if they are participating. If they aren't, but want to, please have them contact CCSWCD directly. We're happy to advise.
MORE ABOUT PCM
We are Farmer-Led – A Sustainability Program. Dedicated to Help & Protect Farmers.
We are Mission Driven – Supports Farmer's Efforts to Adopt Voluntary and Economical Conservation Best Practices.
Your Data Is Yours. Always. And Your Data Is Secure. – Read Our Data Licensing & Protection Agreement. Crystal Clear. No Loopholes. No Nonsense.
Free Farmer Portal Tools – Integrate Precision Ag, Conservation, Economic Data & Conservation Management Best-Practices to Inform Sound Business Decisions.
Consolidated Farm Management & Conservation Data – Easy Access. Detailed Analysis.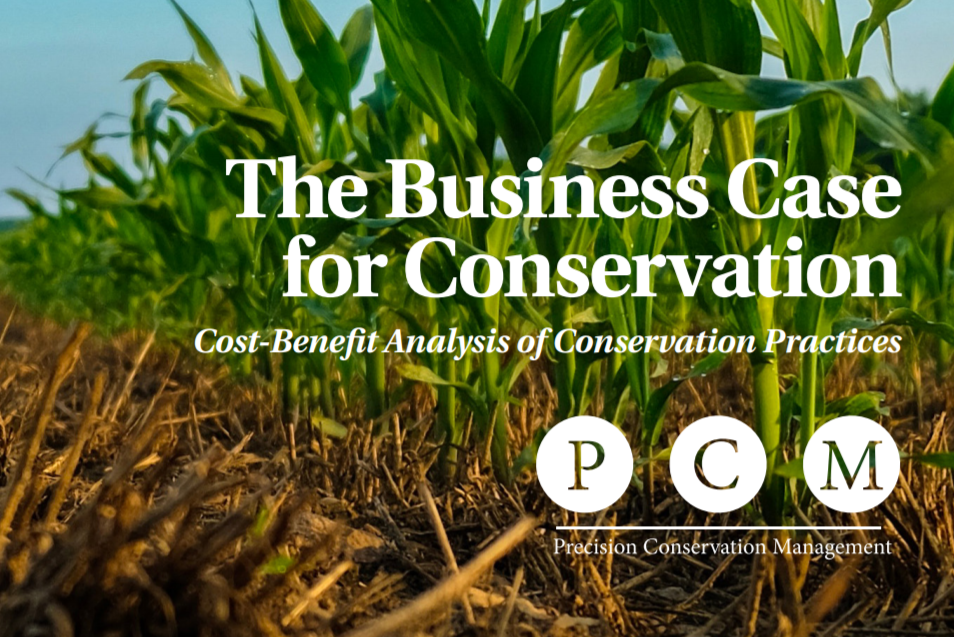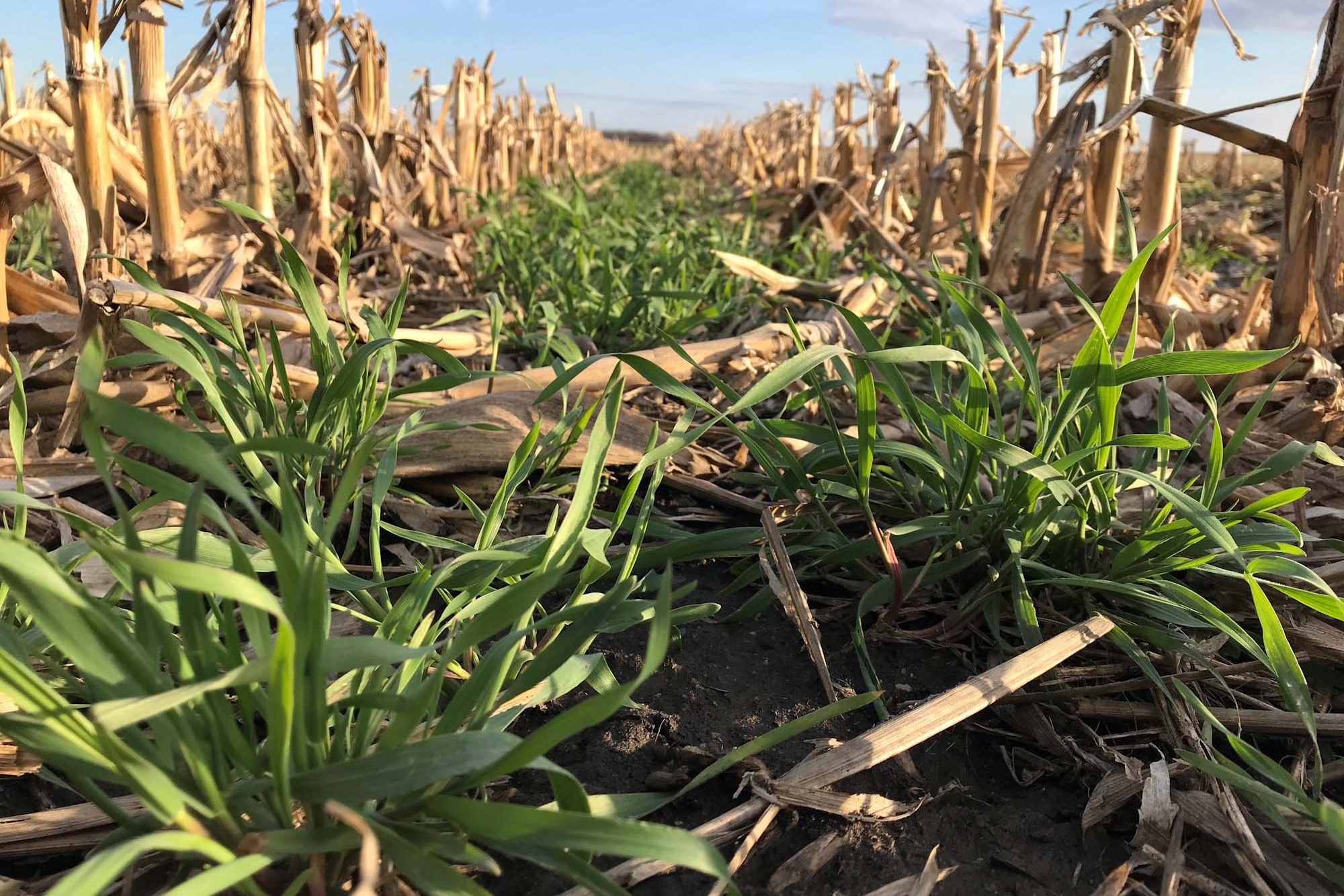 QUESTIONS? CONCERNS?
The Champaign County Soil & Water Conservation District can assist.
Call (217) 352-3536 Ext. 3 or email.