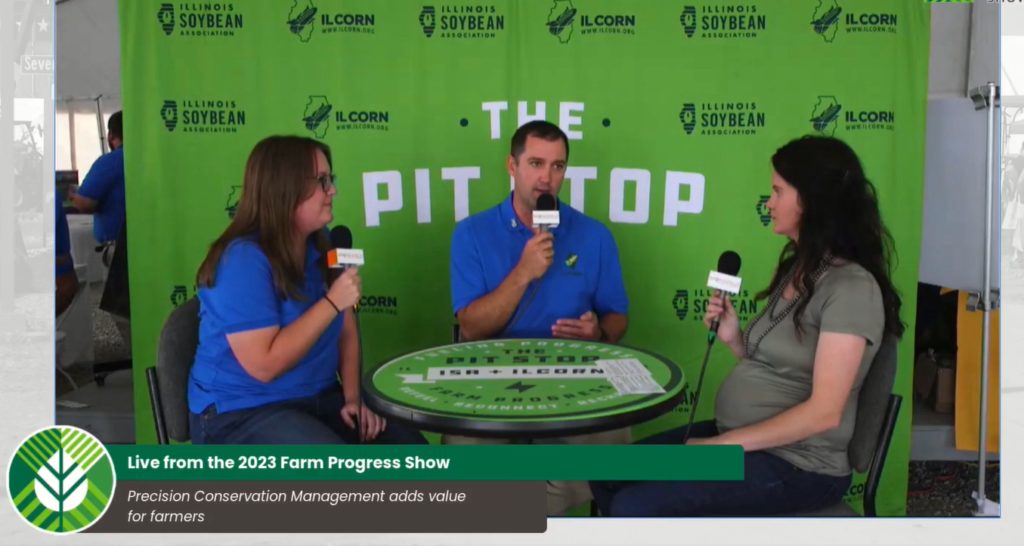 PCM staff was present at this year's Farm Progress Show sharing opportunities to adopt on-farm conservation practices. PCM Director Greg Goodwin and Megan Miller from Illinois Soybean Association (ISA) joined Rhiannon Branch of Brownfield Ag News to discuss the program as a whole and upcoming opportunities for farmers.
What is the biggest benefit of the PCM program?
According to Megan Miller, Agronomy Programs Manager at ISA, "The conservation specialists. Having a third party person that can help you adopt these practices that isn't connected to your seed dealer or fertilizer company is really critical. The PCM Staff is also really good about applying for grant money and working with different end users to try to get money for farmers for implementing these conservation practices. They work a lot with different partners trying to negotiate on behalf of the farmer."
What should Illinois farmers be on the lookout for in the near future?
"Different programming around climate smart commodity programs and others as they try to scale up. The Federal Government has injected over 3 billion dollars into this space and even more so through the inflation reduction act … so there is going to be an opportunity that fits your operation no matter what you're doing," said Greg Goodwin, Director of PCM.
Greg also emphasized the focus on understanding the on-farm economics of conservation. This helps PCM staff educate lawmakers on what they're asking farmers to do and shine a light on what it costs farmers to make these changes.
View the full interview here (14:20): https://www.facebook.com/BrownfieldAgNews/videos/724087486195542