PepsiCo Global Team Meets With PCM Farmers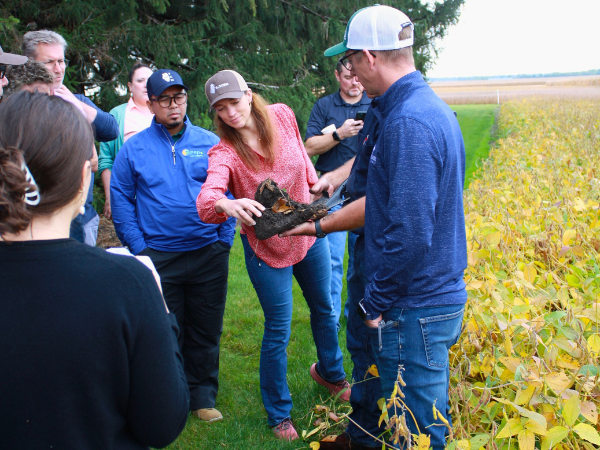 The PepsiCo Sustainability Team has a vested in interest in on-farm conservation practices, and their "boots on the ground" approach was apparent on a recent visit to a corn and soybean farm in Homer, IL. The PepsiCo Team consisted of representatives from all over the world with backgrounds in agronomy, business and sustainability who traveled to hear directly from Illinois farmers about the impacts and challenges of implementing various conservation methods.
Dr. Laura Gentry and Dr. Gary Schnitkey shared aggregated data results from PCM farmers collected between 2015-2022. This data demonstrates the impact various conservation practices have on farm yields, profitability, and the environment. According to Margaret Henry, Sr. Director of Sustainable Agriculture and Strategy at PepsiCo, "We want our business to be thriving in 20, 30, 50 years. And we know that can only happen if farmers' businesses are thriving, too. We want to help make that happen."
After reviewing PCM data, the PepsiCo team viewed a soil health presentation by Jim Iserman from the Illinois Sustainable Ag Partnership, participated in an in-field demonstration by farmer Zach Wells, and engaged in a farmer panel discussion with several Illinois farmers. It was evident throughout the day that the PepsiCo team was eager to learn about not only the environmental impacts of these practices, but also the real-world barriers farmers face in trying to implement some of these changes — and what companies like theirs can do to make regenerative agriculture more feasible for farmers.
Through their partnership with PCM, PepsiCo offers financial incentives to farmers who are willinting to plant cover crops and/or reduce their tillage and nitrogen application to MRTN rates. Contact your PCM Specialist to learn more about the program guidelines.