How To Successfully Use Cover Crops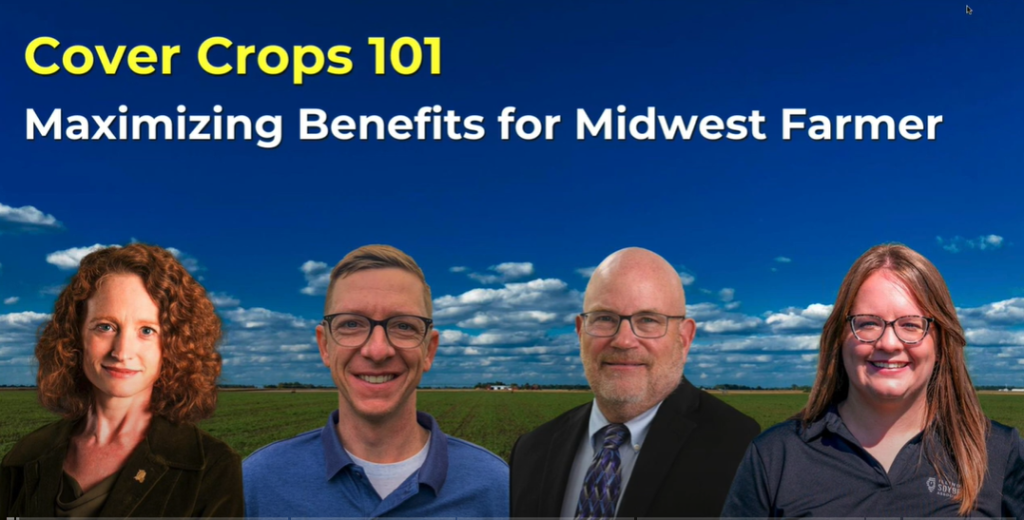 Webinar by Gary Schnitkey, Laura Gentry, ZachWells, and Megan Miller
Why Cover Crops?
Your farm can only be as good as your soil. Cover crops can provide a myriad of benefits to your farm, perhaps most notably through their effectiveness at keeping topsoil in place and preventing nutrient loss.
Case Study: Champaign County, IL
Champaign County farmer Zach Wells shared his farm's experience with cover crops over the last 8 years. He started with 80 acres of cover crops through a cost-share program that removed the potential risk of trying a new practice (40 acres cereal rye ahead of soybeans, 40 acres oats and radish ahead of corn). Today, they have 400 acres of cover crops on their farm.
Lessons Learned:
Just like the rest of crop farming, weather patterns have a huge impact on success. Some years cover crops have helped fields through a weather event, other years not.
No notable change in yield directly tied to cover crops; tillage has a greater impact on yield.
No economic gain, but soil health and nutrient loss benefits have been noted.
Termination timing can be tricky, especially with unpredictable rainfall in the spring.
PCM data has been helpful to gain insights and make decisions. Comparisons year-over-year and against other farms in the region makes the big picture more clear.
How to Get Started
Based on the topo 25% most profitable farms who use cover crops, we suggest getting started with the following considerations:
Plant cereal rye after corn harvest (Cost = $30/a for seed and drilling)
Terminate before or after planting soybeans in the spring
Anticipate less herbicide (-$25/a pesticide cost savings)
Financial Incentives
There has never been more financial opportunities supporting cover crops than there are now! Consider pay-for-practice programs or even entering a carbon market. Using cover crops can significantly increase the amount of carbon sequestered in your soil – which you can get paid for!
PCM Specialists stay up-to-date on all of the different opportunities for farmers, and can help you decide which is the best option for your farm. You can also stack some of these opportunities (another benefit your PCM Specialist can help you take advantage of!)
Resources
Cover Crops Improving Life on the Land by Robert L. Myers