Navigating Carbon Markets: Opportunities and Strategies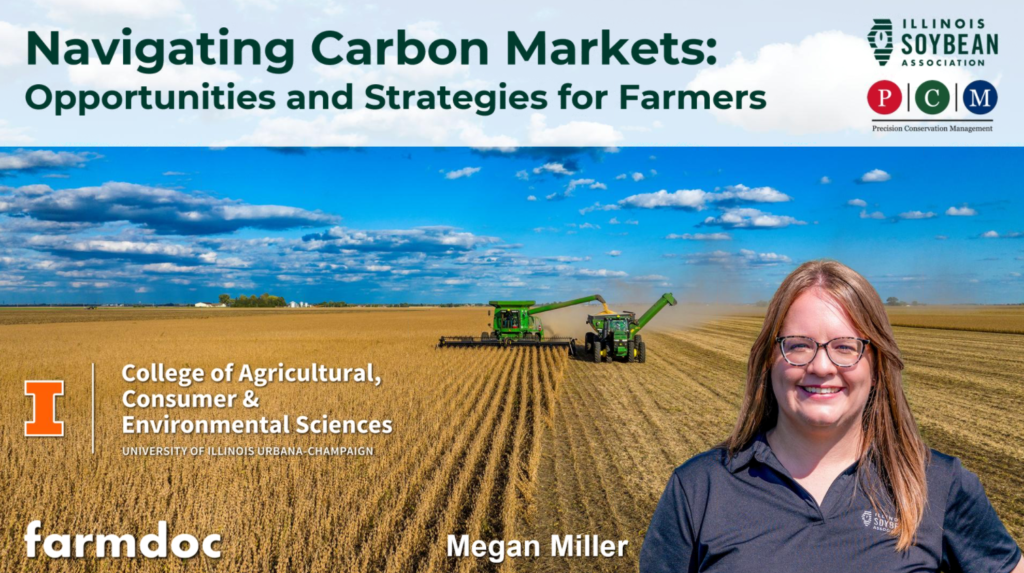 Webinar by Megan Miller, Illinois Soybean Association
Why Carbon?
Carbon Dioxide is one of the primary greenhouse gases (GHGs). Agriculture accounts for ~10% of GHG emissions, which means we have an opportunity to make an impact.
Through photosynthesis, your crops are tools that put CO2 into the ground. Your soil is responsible for keeping it there, or sequestering it. You can sequester even more carbon through reduced tillage and adding cover crops that extend photosynthesis beyond the typical row crop growing season.
The Opportunity for Farmers
Many companies have committed to carbon neutrality or carbon negativity in the coming decades, and are being challenged to account for emissions associated with all ingredients in their supply chain. Row crops are ingredients sold by small businesses to publicly traded companies, so the farming practices you use when growing these crops can impact these companies' sustainability scores.
An estimated ~1.5 tonnes of carbon per acre can be stored in your soil through photosynthesis. This is the sequestered carbon companies would like to claim – and pay you to do so.
Get Started
Carbon Markets are still relatively new and things are changing quickly. There are several considerations to make when choosing which market is best for your farm, but you don't have to figure it out by yourself! PCM Specialists can work with you to find the best opportunities for your farm, stack payment if possible, and even help early adopters get paid for their existing conservation practices. Contact your regional specialist today to learn more! There is no cost to join – in fact, we offer you a $750 sign-up bonus because we know your time is valuable!
More Resources:
Carbon Markets 101 for Farmers